Your front row seat for conversations with two computer hackers turned travel hackers – living globally, financially independent and semi-retired, both following their dreams and helping you to do the same. You can also find us on iTunes, YouTube or however you listen to podcasts, and we love getting your 5-star reviews. Follow the conversation with us on Twitter @GTFOutcast and stop into the blog often to read the latest and give us comments and feedback.
On this episode, Beau and Taylor talk about why they travel and what inspired them to do so. From boredom at work, to the urge for adventure and seeking something new, the duo offers listeners advice on how to take that first step in packing their bags.
Watch GTFOutcast Episode 02:
1:05 – Beau asks Taylor how his coffee is. Which leads to the question of how many times Taylor has been to Hawaii and what he thinks of the Hawaii islands.
2:40 – The conversation drifts in to how some of the best food both Beau and Taylor have eaten on their travels has been the local street food.
3:54 – Beau launches in to the main topic of why we travel and Taylor talks about his inspiration to travel. Believe it or not, Taylor's long term goal is to change the way we teach children.
6:38 – Beau talks about how he traveled around the world for a three whole months. But that wasn't enough, and that trip inspired Beau to think about traveling a lot more.
9:16 – Both of them agree that long term travel really helps you think better as you have the time to do so.
10:10 – Taylor talks about how productive his mind is when he goes hiking. Some of the best thinking both of them have done is when they had the time to travel at ease and not really have to worry about the everyday pressures of life.
13:10 – Taylor asks Beau about what makes him want to get up and do what you do. For Taylor, waking up in a hotel room in a new foreign country is what keeps excites him to keep traveling.
16:54 – Beau gives a philosophical talk on boredom. (Seriously)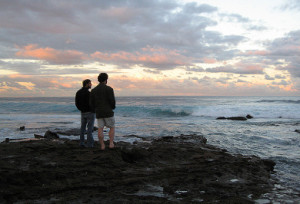 20:15 – Beau asks Taylor what was it that initial inspired him to go from a stable life to a more adventurous one and take a chance doing something that most would consider an "insecure" job.
24:15 – Beau talks about his epiphany after the 3-month long world tour and how the soul-searching eventually led to the admission of unhappiness Beau got out of work. Beau advices others to take that one small step to travel and believes that will set the ball rolling.
28:56 – Talyor admits he has a tough time planning for the future. At the same time, he believes it's okay if younger people didn't think too much into the future as plans and ambitions may change as years go by.
32:54 – Beau wraps up the episode by stating people's paths may change and they need to overcome their thresholds.