Your front row seat for conversations with two computer hackers turned travel hackers – living globally, financially independent and semi-retired, both following their dreams and helping you to do the same. You can also find us on iTunes, YouTube or however you listen to podcasts, and we love getting your 5-star reviews. Follow the conversation with us on Twitter @GTFOutcast and stop into the blog often to read the latest and give us comments and feedback.
On the November 1 episode of the GTFOutcast, Beau Woods and Taylor Banks talk about their experiences traveling solo versus traveling with a group. From the advantages to the disadvantages, traveling alone or with someone else makes for an interesting discussion. Which do you prefer, and why? Let us know in the comments.

Watch GTFOutcast Episode 09:
0:36 – Taylor asks Beau about his solo trip to Costa Rica and Nicaragua
2:27 – Beau shares his experience traveling around by bus — which cost him a *shocking* $50 for 10 days!
4:17 – Taylor dives into the topic of contrasting solo travel to that of traveling with a group or a partner. Taylor has rarely traveled alone, while Beau has largely traveled by himself, and gives his reasons as to why traveling solo is great.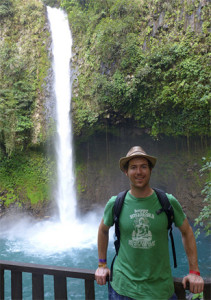 5:48 – Taylor explains his heightened sense of security and acclimating when traveling with his wife.
9:30 – Clearly there costs benefits to traveling in a group versus going alone. Like sharing accommodation costs, eating out, shared transportation, etc.
10:57 – Taylor shares his thoughts on traveling with a loving partner and how traveling together has been a great bonding experience. The situations a couple faces when traveling together can help learn more about each other  — which could end up in a break up, or evolve into a better relationship.
13:53 – Taylor now talks about the upside and the downsides to group travel. Safety and security issues are fairly non-existent, but deciding where to eat can be annoying when you are in a group!
15:15 – Beau brings up the theories mentioned in the book 16:30 – Taylor talks about the fun involved in doing the research yourself and getting a chance to be adventurous when traveling solo or as a couple. Something that's hard to do when traveling in a group.
20:30 – Taylor mentions the Get Lost guides — which are not written by your typical travel writer, and how the guides helped him go the off-the-beaten path in Amsterdam.
23:37 – Beau talks more about the positives and the sense of accomplishment traveling solo provides.
26:08 – Taylor wraps up the episode.